Developer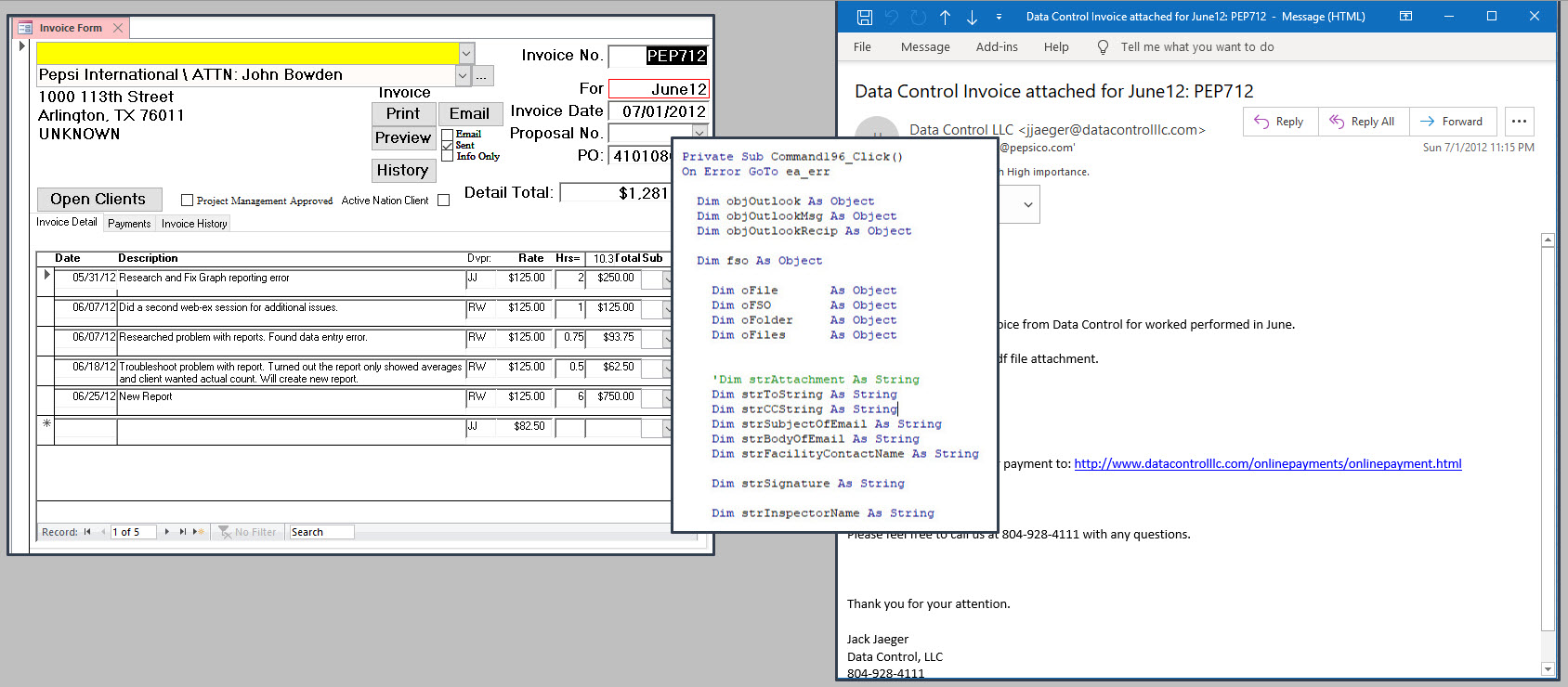 ---
We are Microsoft Access Database Developers. With 25 years of experience servicing business and government clients including Pepsi, Capital One, the states of Virginia and Maryland, and the US Navy; we follow commonly accepted practices for databases and VBA (Visual Basic for Applications) development.

We offer free shared view sessions to discuss your project. Please call us to set up an appointment or email us using the submission form above.

Do you want to migrate your Excel spreadsheet to Microsoft Access? We do that.

Do you want to integrate your excel spreadsheet with Microsoft Access? We do that.

Do you want to tie your Access database to your website, SQL Server or MySQL backend database? We do that.

Do you want to place your data in the cloud while keeping your Access databases forms/queries/reports? We do that.

Do you want to integrate your Access database with Outlook email and scheduling? We do that.

Do you want your Access database to produce .pdf files for your clients' quotes or invoices or any other reason? We do that.

Do you want to perform light document management with your Access database? We do that.

Do you want to connect your Access database to your Accounting System, SAP, Timberline, JD Edwards or any other ERP system? We do that.



Concerning our Microsoft Access Development, this is how we approach being professional developers:

We employ naming conventions on our database objects. Upon request we will also emply naming conventions on field names. We limit the use of queries to be essential objects that are helpful in the query window. We place SQL Statements mostly in Form/Report record sources and drop down row sources. We make every effort to make forms single table based and rely on drop downs to bring in information from other tables (or dlookups) and subforms for entire tables of related information.

We use Office automation regularly to connect access to Excel, Word, Outlook, Quickbooks and other programs. We have connected many databases to ERP and web databases such as MySQL, SQL Server, JD Edwards, SAP, Timberline and more.

We support mission critical databases. Our clients rely on the day-to-day operations of their Access databases. And they retain us to be available on an as needed basis. Examples of these database include Ferrara Candy's Operation Equipment Effectiveness database, Pepsi Bottling's Plant Tracking System, The Naval Observatory's Inventory database, Isometric (Vendor the the US Army)'s equipment part inventory and use and future demand database, Sequoia Tax' client list database, Dekra Consulting's back office account, audit and certification management database, ADV's order processing and inventory database.